We at Clothing the Homeless are so very grateful for those who shared
their story of the impact CTH has made in their lives.
Clothing the Homeless has been distributing at The Hub for quite some time and has made a big impact. They recognized our director Mitchell Raff and our volunteers in a recent newsletter. Here is their article.

Mitchell Raff is the director of Clothing the Homeless. He has been volunteering his time since 2016. He has the most giving heart and truly desires to treat everyone with dignity and respect. We believe this is why our partnership works so well. Mitchell and his team of volunteers come out every forth Saturday to do a giant clothing distribution. We have so much fun when they are on site and it is always a joy to witness the way he serves our patrons.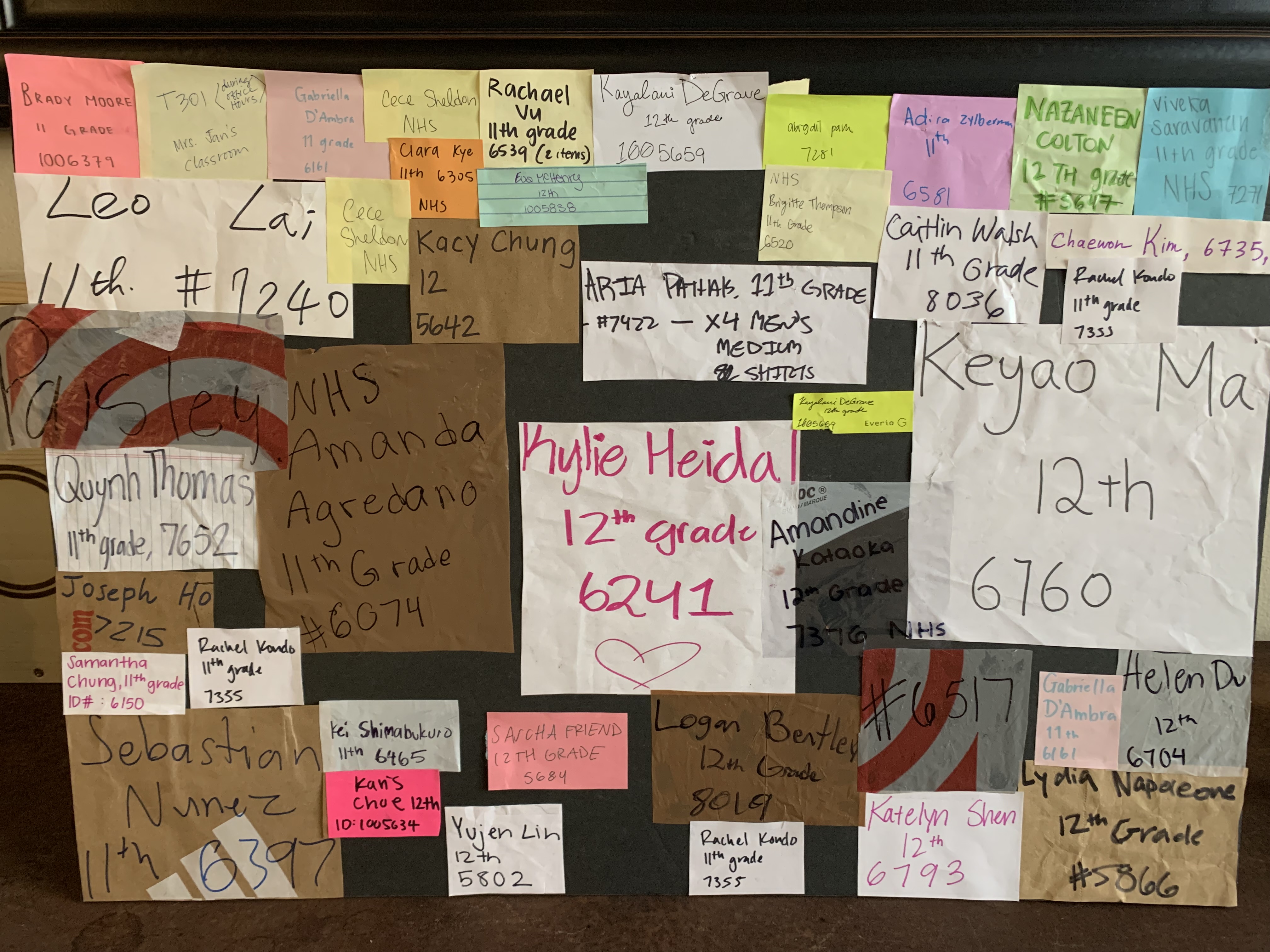 We would like to thank the students of the Orange County School of the Arts in Santa Ana. They held a clothing drive to gather clothing for us. We really appreciate those donations which are going directly to the homeless. Here are some words from their Community Service Coordinator, Heather Kim, who coordinated the event.

I hope that the donations will have a positive impact on the people that your organization serves, and we appreciate your commitment to the community and this cause. I will make sure to let the community service coordinators of future years know about your organization so that our school can hopefully organize yearly drives to support these people, even after I have graduated and no longer hold the position I currently do within my school's National Honor Society.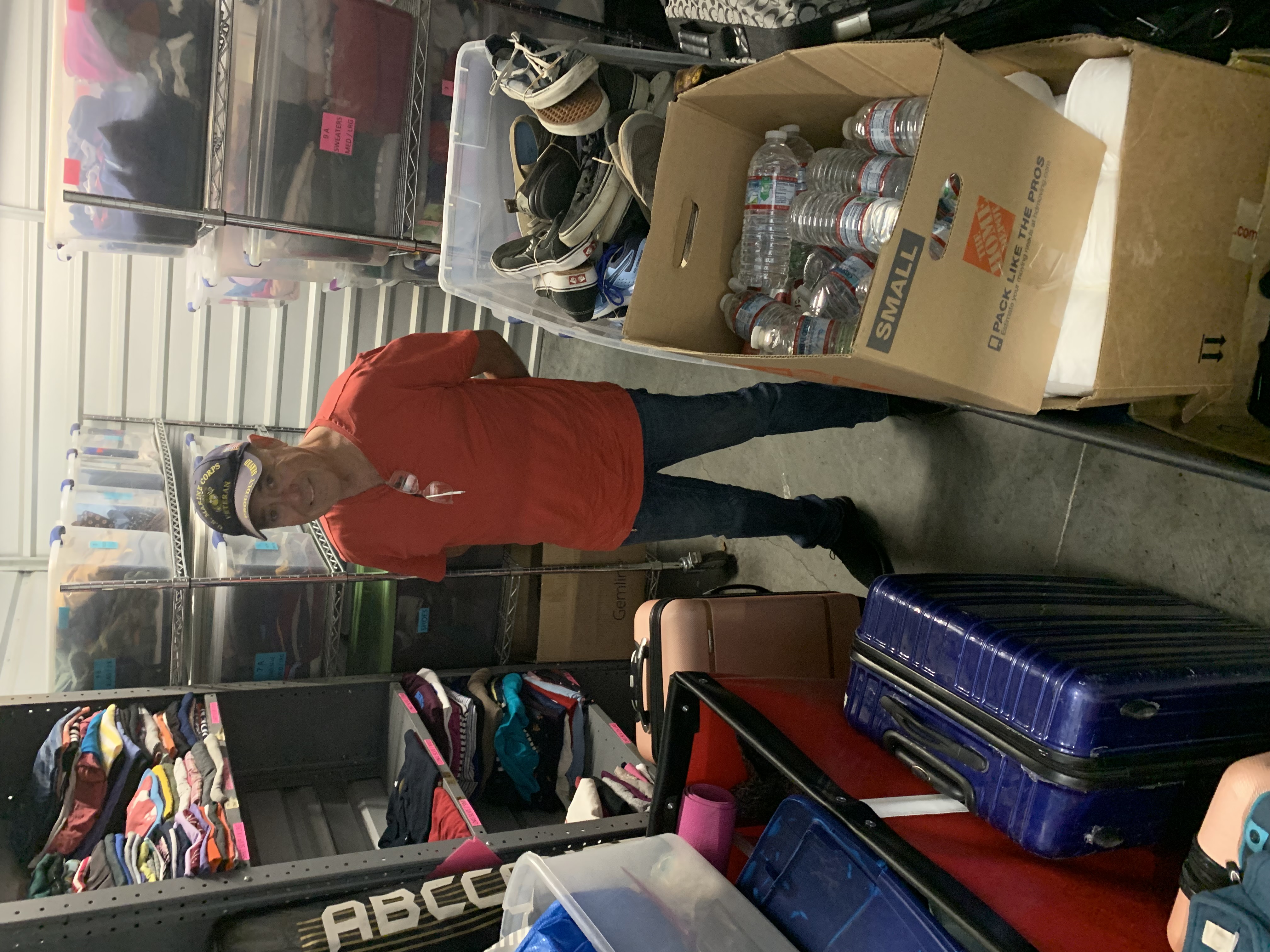 John has been homeless veteran (Marines) for many years. A few months ago, he was finally able to obtain government-assisted housing. John and Mitch met years ago when he was a member of MHA. For the last few years, Mitch would get a text message from John indicating all of his possessions were once again stolen. They would set a day and time for him to come to the CTH stoage lockers so he could pick up whatever he needed from our inventory. Here is a letter John wrote to Mitch.

It took every penny I had for 1st and last month's deposits. Then, just as I thought I was done, I realized all I have is a sleeping bag, a pair of jeans, 3 t-shirts, 4 pairs of socks, a jacket, a toothbrush, but an empty bedroom and bathroom. Then came some bed sheets, pillows, towels, and a few other needed things. And then I'm down to a few bucks but I had to look for a cheap dresser on Craigslist. "Wait a minute, what the heck am I going to use it for? I have no clothes to put in it."

I thank you Mitch, and Clothing the Homeless, sincerely. You helped to keep me afloat and hygiene to be clean. You gave me a sleeping bag, a jacket to stay warm on cold nights, shoes and clothes to wear, a flashlight to see at night, and a backpack.

By having those gifts and blessings, I am able to look and feel good and sleep well. By not having distractions or worries, I am able to fight the bigger ones. (You would never know I was homeless unless I told you). I like to look my best, if and when possible, and I do. I am able to blend in and function in society and not be stereotyped as just another homeless. I can go anywhere and any place and not be watched or told to leave or move along. And the cops don't mess with me either.

Most IMPORTANTLY, I actually can save money and save my things. I have everything to carry me through and keep me afloat. (Not buy things again and again.) And Mitch, we know that I have had many privileged visits to your facility, getting and replacing the same things time and time again. I stopped counting after the 5th trip. You and Clothing the Homeless have been one of the great gifts in my life. And I got a chance to meet you, someone I could respect and trust. A man with compassion, unselfishness, kindness, humbleness, and not afraid to look you in the eye when and if he decides to shake your hand. I am truly appreciative, grateful and thankful. I will not forget all you and Clothing the Homeless have done for me.

And this is why I'm asking you to read all this text. So you would know how I really feel before I ask…"Hey Mitch, when you have some time, I really could use something that I can put in a dresser and hang in my closet." That means a lot to me and the person I have become.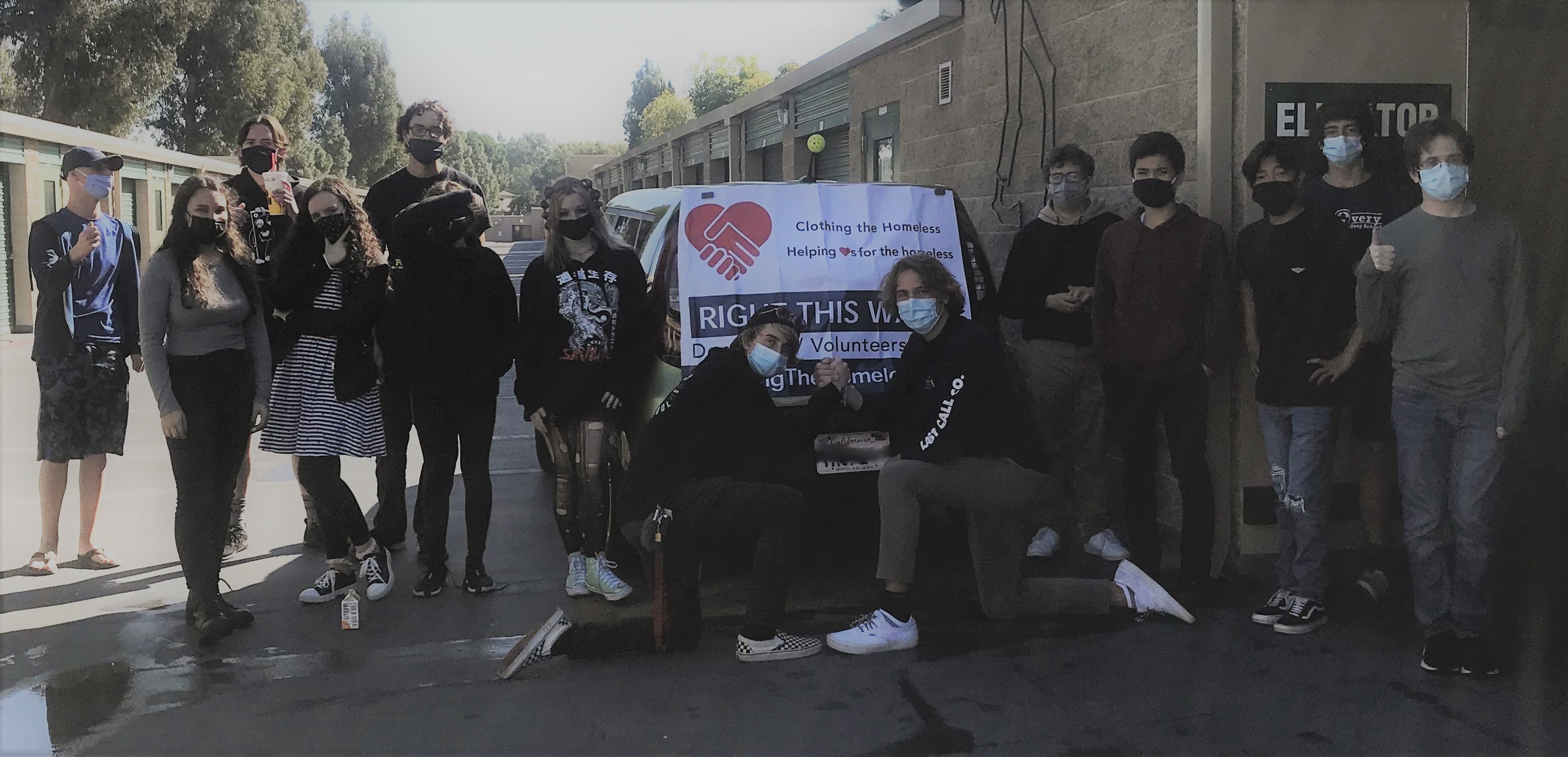 Students from the Discovery Prep School in Aliso Viejo have been helping Clothing the Homeless for several years. Read the letter below from their Community Service Coordinator.

My name is Tim Culbertson, and I have taught math and science for more than 20 years. One of my roles at Discovery Prep School is as Community Service Coordinator, I plan a wide range of engaging volunteer experiences for our students. Such as trail crew with Laguna Coast Wilderness and Orange County Regional Parks, outreach with homeless shelters and food kitchens in Anaheim, and, perhaps most notably, working with Clothing the Homeless and Mitchell Raff. I called Mitchell in 2018 after reading about Clothing the Homeless online, and shortly thereafter brought a group of Middle and High School students to help Mitchell with service. That first experience in 2018 has led to nearly four years of consistent monthly volunteerism with Clothing the Homeless.

Working with Clothing the Homeless provides my students the opportunity to work directly with unhoused patrons, helping them select clothing items based on their need. This direct, one-on-one contact, with each patron, creates a deeply humanizing bond between the student helper and the person who they are helping choose clothes. The kids and patrons discuss clothing options, preferences, and their lives; students are left with a novel and remarkable connection to a person with whom they would not have otherwise engaged. It is difficult, particularly in the pandemic climate, to have these sorts of experiences. In no other instance in service, in more than 20 years of planning volunteer opportunities, have I had the chance to see such direct and meaningful communication. Clothing the Homeless helps to teach my students to see the world around them and the other people in it; the experience humbles them and makes them think about the meaning of community. At Discovery Prep, we focus on educating towards Core Values, one of which is compassion. I cannot imagine an opportunity which can teach more compassion than this direct engagement with the unhoused.

So often at the end of this experience, on the drive home, students are quiet and introspective. The experience moves them. Eventually, they are able to converse and reflect about the experience; what is most impressive to me is that invariably they want to go back to it, to do more to help, and to seek out this connection to the most disenfranchised in their community. To me, that's the purpose of community service. I am so glad we found Clothing the Homeless, and that we can continue to help serve and help make these connections.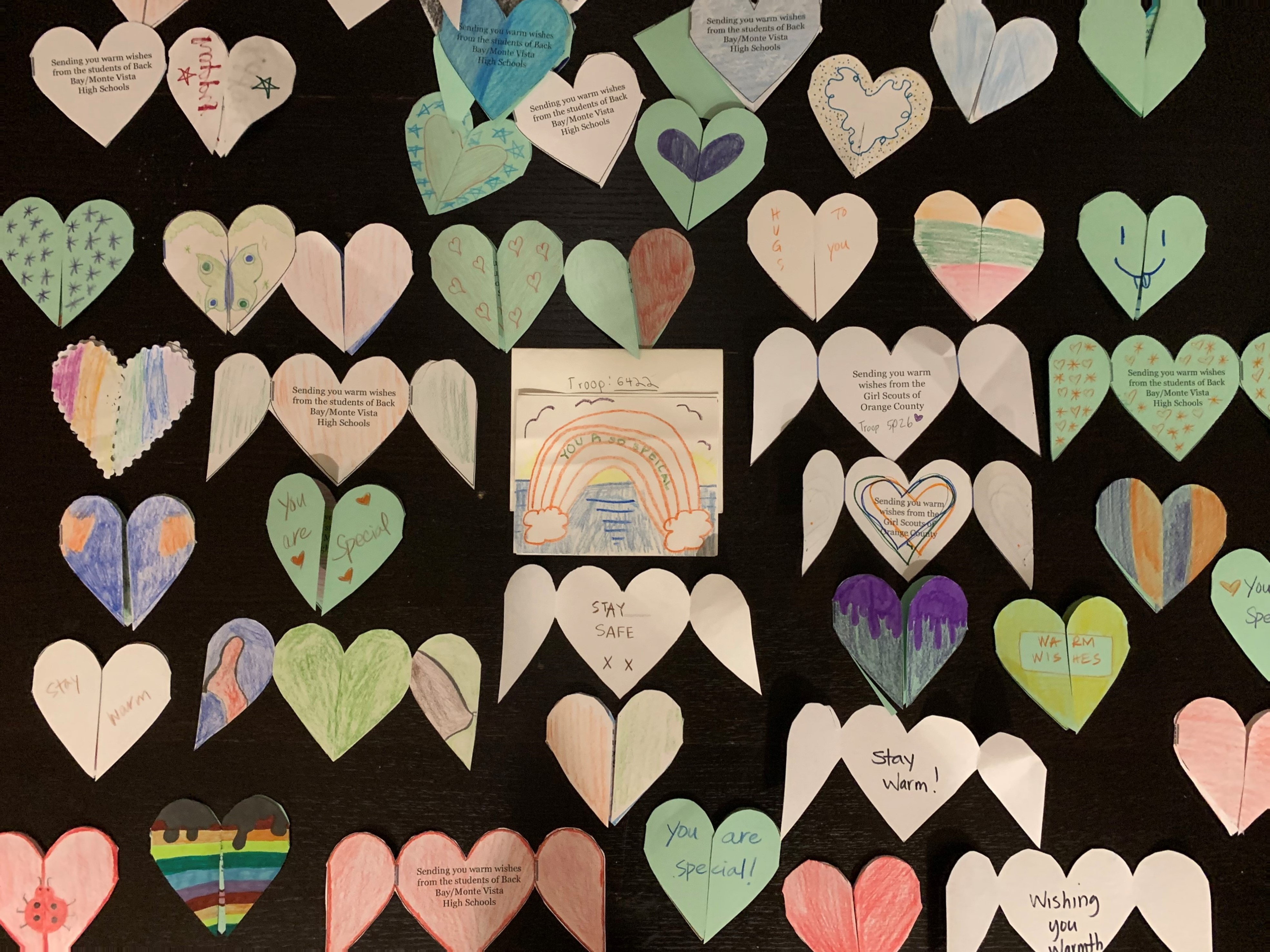 Brownie Troops 5026 and 6422 here in Orange County have collected more than 500 coats and jackets through their work with the "One Warm Coat" organization and donated them to Clothing the Homeless to help us in our work to help the needy.

This is an amazingly kind and much needed donation. Please see the note below from one of the Brownie Troop leaders.

"Hello!

I am writing because I am a co-leader for my daughter's Brownie Troop. We are partnering with another Brownie Troop at our school to participate in a "One Warm Coat" drive to gather coats for families and individuals in need for the winter season. Please let me know if following our drive, we could donate the coats we collect of all sizes to your organization. Our Brownies will also be putting happy "pocket notes" inside the coats to comfort those who receive them. It is a part of teaching our girls about giving to the community and those in need, and we would like to ensure the coats go to good homes following our efforts. Please let me know if you would like to receive the coats for your organization. I anticipate having a lot of children's coats to donate."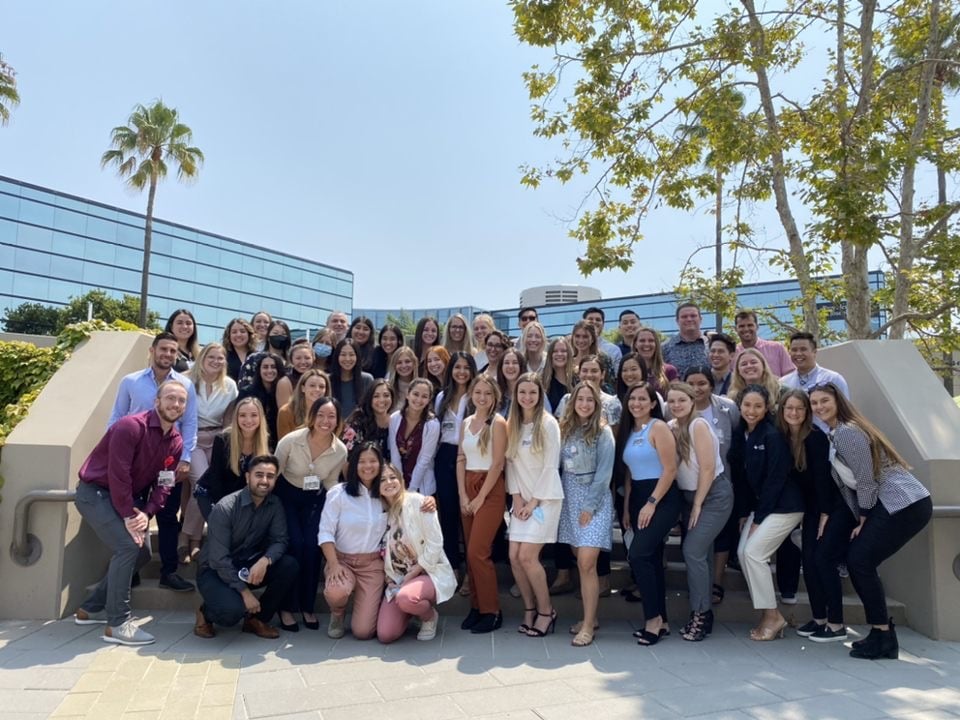 Concordia University nursing school students have been working with Clothing the Homeless (CTH) and MHA Multi-Service Center (MHA) for some time offering services such as health screening for MHA clients as part of their school training and even volunteering their time to help with CTH clothing distributions. They have been a tremendous help-having brought tremendous caring and compassion to their efforts-to both programs and those in need.

Over the summer, one of Concordia's 2021 nursing school graduates, Becca, reached out to the Clothing the Homeless director, Mitchell Raff. She shared with him that many of the student nurses were so moved and touched by the amazing service and care provided to the needy during the clothing distributions that they felt compelled to offer CTH some sort of support or gift to help in this important work.

A few weeks later Becca reached out yet again to arrange a time to meet. To his surprise, she arrived bearing gifts of not just one but two large folding tables so much in need at the distributions. He warmly thanked her and the other nursing students for their kindness and generosity, and asked her to provide a picture of the graduation class so it could be posted and this wonderful and heartwarming gesture that they so generously showed to CTH and those in need could be shared.

A BIG THANK YOU to the nursing class of Concordia University cohort #25 of 2021. They are truly wonderful, caring and special, and have demonstrated that in many ways. CTH wishes them the very best of luck in their new careers and pursuits.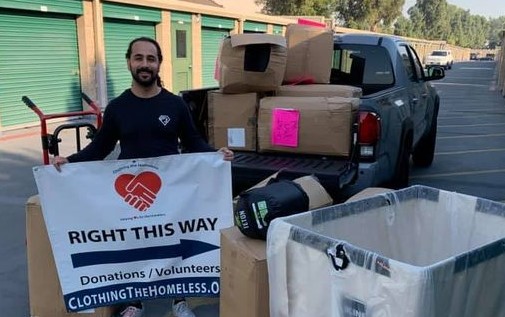 Kerollos "Kero", a local Orange County resident, recently contacted Clothing the Homeless with an amazing offer to raise money to buy sleeping bags and socks for needy Orange County residents. Keno, along with his friends, family and supporters, raised enough money to buy three truck loads of sleeping bags and socks for us to distribute. Here is Kero's story in his own words:

"This started with sitting in church (Rock Harbor Costa Mesa) listening to a message about avoiding being dull, and being a light. The message encouraged us to utilize our gifts and talents to further the kingdom of God. It was then followed by a tailgate dinner at Raising Canes around 8:45pm with my friends. While eating I became very cold and couldn't imagine how cold someone living on the street would be on nights like that. From there I had the idea to collect sleeping bags. My friends encouraged me so I decided to move forward. I gave myself a timeline: 2 weeks to raise $1000. (God laughed at me). Within 24 hours of sharing, I had a reached the $1000 mark and was getting flooded with more donations. With the support of friends, family and others on social media, we collected enough money to purchase 124 sleeping bags and over 85 pairs of wool socks for those in need. It was so flippin beautiful to see people come together and become a force for good. It was a glimpse of Heaven on Earth."
Pastor Joshua Collins partnered with Clothing the Homeless to help the homeless in Orange County. Here is Pastor Collins's story in his own words:

"Hello friends, my name is Pastor R. Joshua Collins and I am the Founder of "Homeless Advocates for CHRIST" on Facebook. I am an ex-mathematics instructor from Spokane, WA that graduated Magna Cum Laude from Eastern Washington University and now am doing full-time ministry in Orange County, CA. The Lord called me to leave all my possessions and past career behind in order to live with the homeless for over ten years while preaching on the streets in various cities including Spokane, Seattle, L.A., Venice Beach, Las Vegas, and various cities in Orange County including Anaheim, Buena Park and Fullerton. I started traveling in 2002 and arrived in Anaheim in 2013. Through this experience I learned so much about homelessness and the need to fight for the right to housing for so many in need. I was arrested many times for doing peaceful protests for the homeless in Las Vegas where they were often harassed, and fought many cases as my own attorney, eventually beating the city of Las Vegas in Court on my 24th arrest. Through our advocacy work in Orange County, various cities were forced to build homeless shelters, and now various cities here are often treating the homeless better than before, but still more work needs to be done, including the creation of more Permanent Supportive Housing. Covid has truly amplified this need as many shelters have gone on lockdown so that the homeless who want help often times have nowhere to go. Previously police would take the property of the homeless and ticket them for camping in Anaheim and other cities in Orange County to try and drive them away, but as we filmed the actions of police and connected the homeless with attorneys, much change came. Feel free to check out my You Tube Channel at, "R. Joshua Collins", or email me at servingjesus99212@yahoo.com if you have any questions or comments you would like to share. Your continued prayers for this ministry and the homeless are greatly appreciated. If you would like to help in some way, do let me know. May GOD bless you abundantly as you seek first HIS kingdom always!"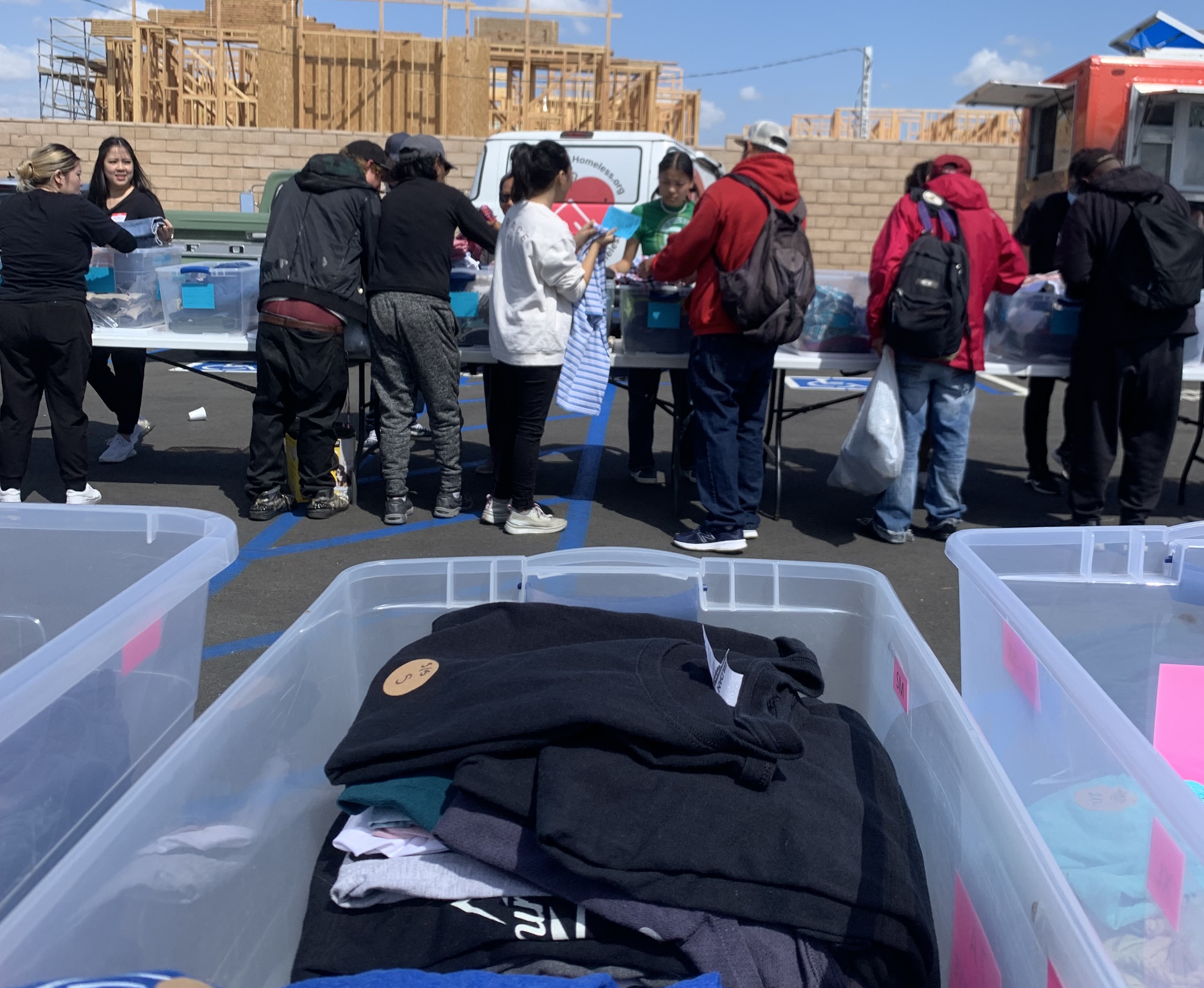 Our distributions are organized so clothing in the appropriate size can be found easily.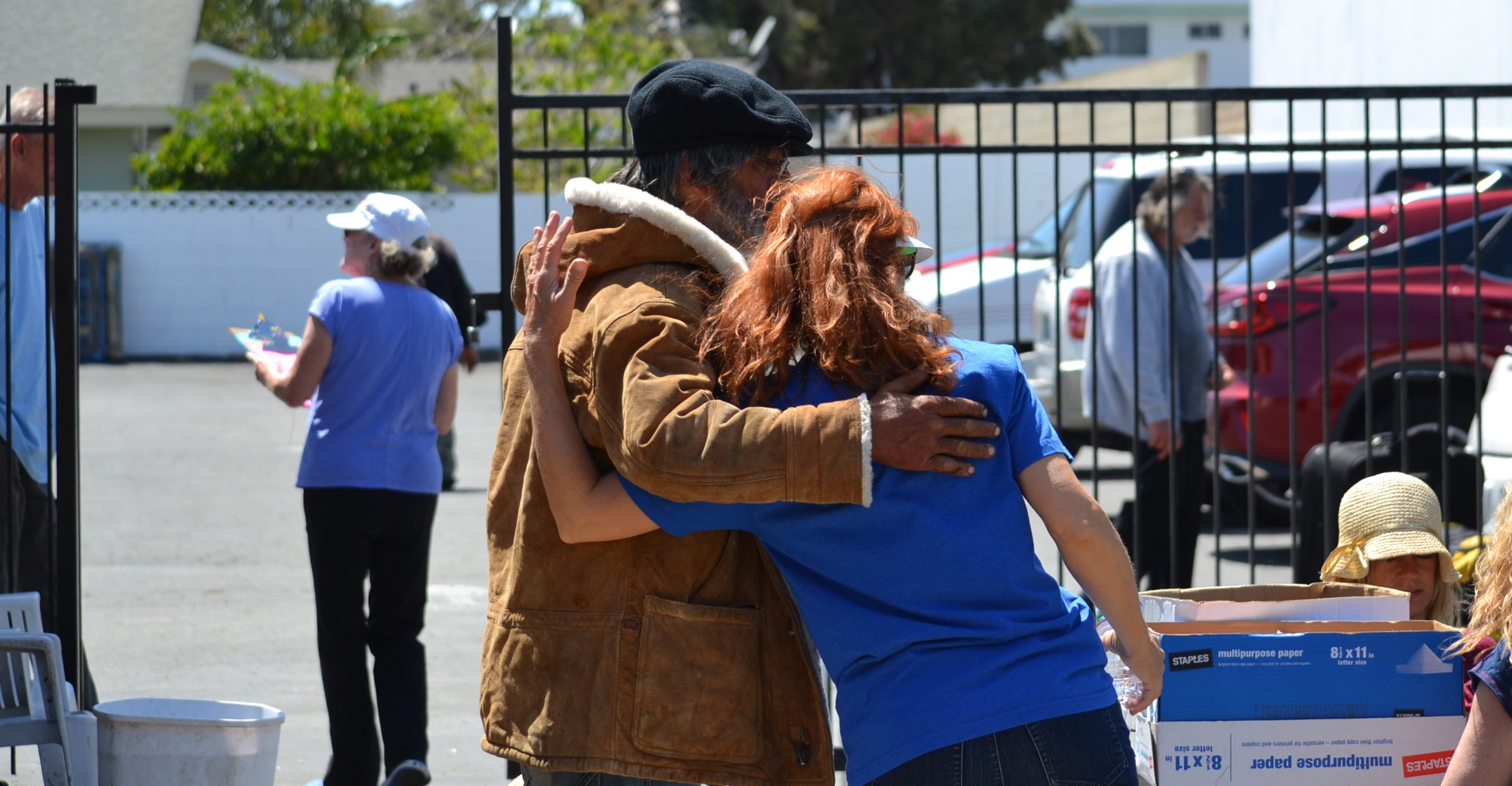 We distribute clothing and necessities with empathy.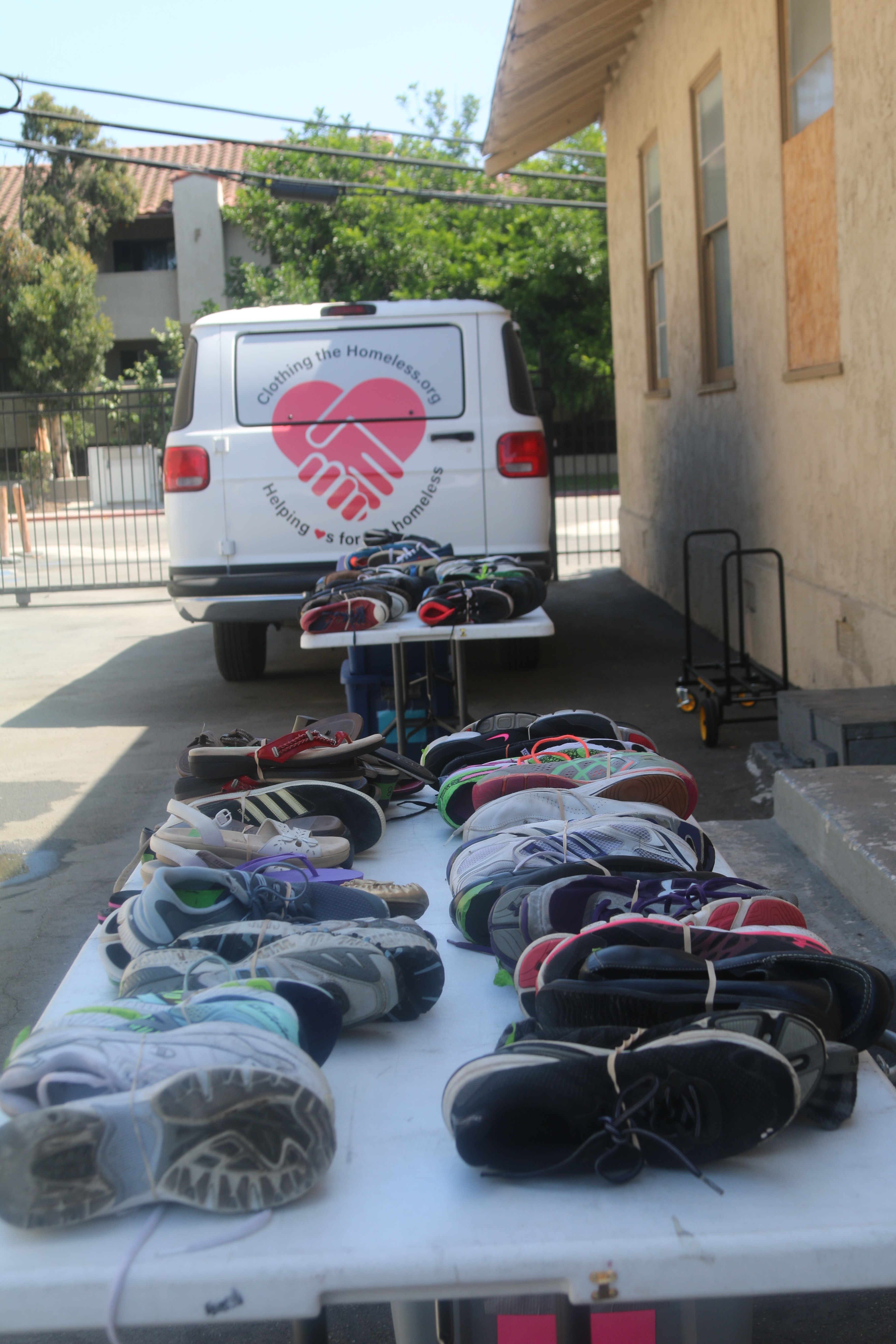 We distribute 30+ pairs of shoes a month.
OUR IMPACT IN 2023 (through April)
115
Women Served
362
Men Served
220
Volunteers
970
Hours Volunteered
471
Women Served
1,048
Men Served
396
Volunteers
2164
Hours Volunteered
259
Women Served
806
Men Served
178
Volunteers
1640
Hours Volunteered
116
Women Served
248
Men Served
117
Volunteers
162
Hours Volunteered
380
Women Served
758
Men Served
329
Volunteers
422
Hours Volunteered